Men's 1 Month Fertility Package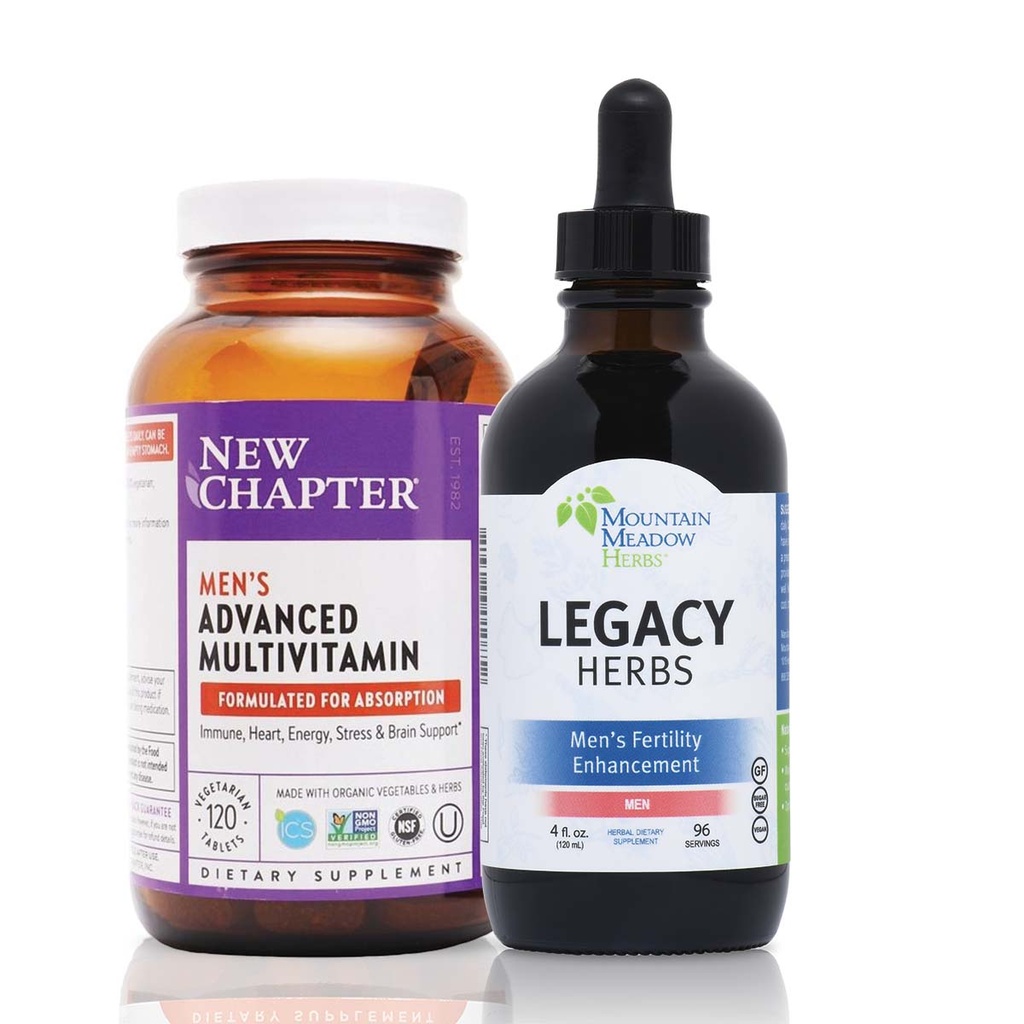 Men's 1 Month Fertility Package
• (1) 4 oz. Bottle of Legacy Herbs
• (1) Bottle of Men's Advanced Mulitvitamin

---
Legacy Herbs: Men's Fertility Enhancement
• Partner to Fruitful Vine

• Production support
Every Man: Men's Mutli-Vitamin
• Immune system support

• Promote increased energy
Ingredients
Legacy Herbs - Extracts from: Eleuthero root, Tribulus Terrestris fruit, Pygeum bark, Barrenwort leaf, Astragalus root. 
Other Ingredients: Vegetable glycerin, distilled water, and approx. 5% - 10% organic grain alcohol. 


Every Man - Contains: Vitamin A, Vitamin C, Vitamin D3, Vitamin E, Vitamin K, Thiamin-Vitamin B1, Riboflavin-Vitamin 2, Niacin, Vitamin B6, Folate, Vitamin B12, Biotin, Panthotenic Acid, Calcium, Iodine, Magnesium, Zinc, Selenium, Copper, Manganese, Chromium, Molybdenum. 

Prostate Support Blend: Saw Palmetto Extract, Organic Pumpkin Seed oil, Nettle Extract. 
Stress/ Energy Support Blend: Organic Schizandra berry, Organic Maca root, Organic Chamomile flower. Cardio Support Blend: Organic Fenugreek seed, Organic Oregano leaf, Grape Seed Extract, Organic Hawthorn berry and seed. 
Digestive Support Blend: Organic Aloe leaf, Organic Peppermint leaf, Organic Coriander seed, Organic Cardamom seed, Organic Artichoke leaf. 
Immune Support Blend: Elderberry extract, Organic Eleuthero root, Organic Astragalus root.
Full-Spectrum Herbs and Extracts: Ginger, Organic Turmeric.
 Legacy Herbs: Suggested Use: Men. 1/4 tsp. 3-4 times daily.

Every Man: Suggested Use: Men. Take 2 tablets daily.