at Mountain Meadow Herbs

A unique, upscale conference space in the heart of the Flathead Valley, offering room for groups as large as 70, but also warm and inviting for smaller groups as few as 10.
Located at the Mountain Meadow Herbs facility on Highway 82 between Somers and Bigfork, this beautiful conference center space offers a classroom-style setup with comfortable tables and chairs to facilitate any business or organization's meeting.
The Center is located in the front of the building between an open floor plan that flows from the new Mountain Cafe on one side to the Herbs Store on the other side. Moveable glass walls can be rolled back to open the space into the cafe and lobby area to accommodate larger groups and a variety of events.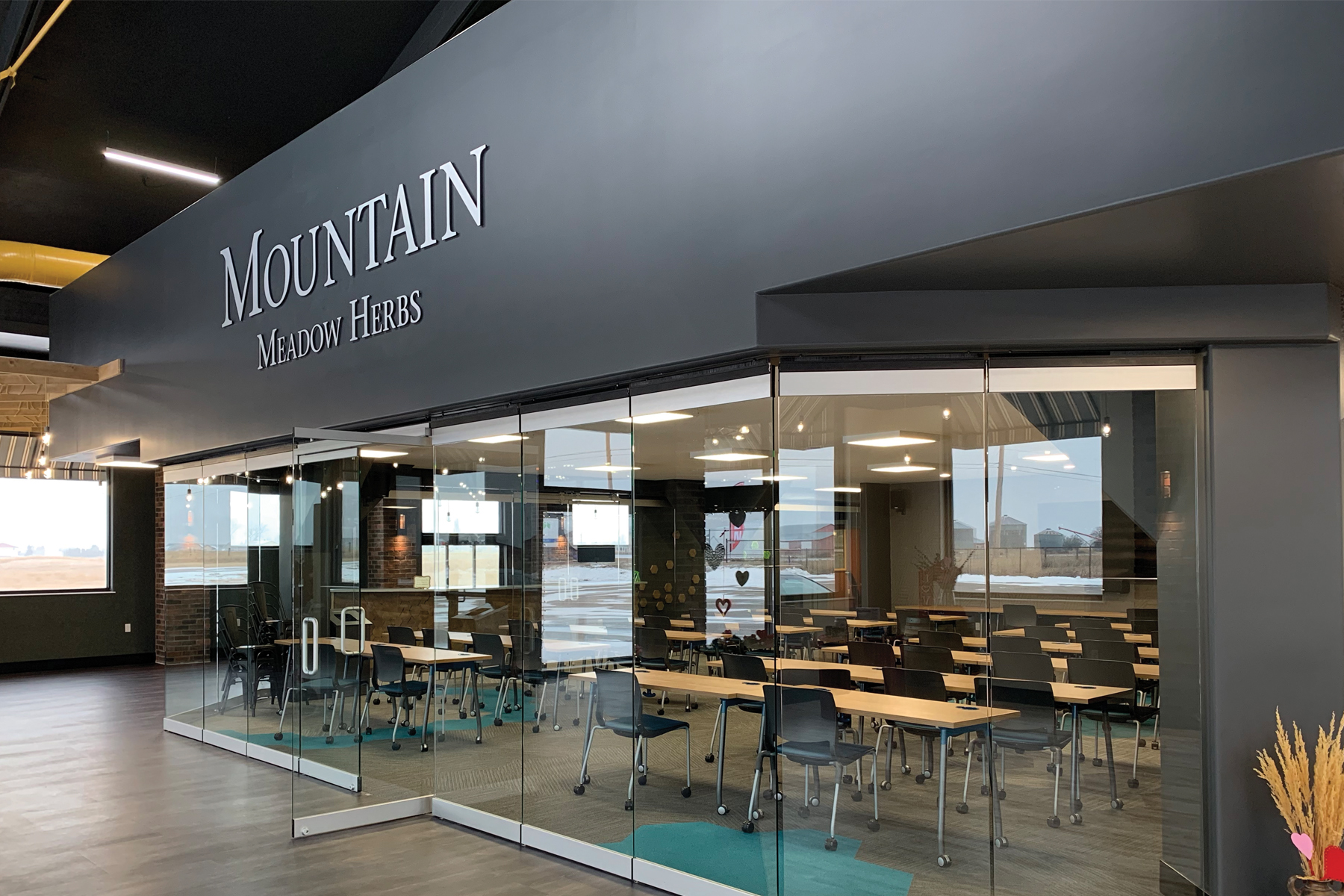 For more information about renting the Meadow Conference Center, please contact Erica Stevens or call 1.888.528.8615
Basic Pricing
Rent the space by the hour or by the day!
Full-Day*
$300
*Anything four hours or more is considered a full day.
Membership Pricing
Purchase a Meadow Conference Center Membership and enjoy discount rental rates, special product pricing, and more!
$100
Sign-up includes two hours of rental credit on your account
$45
Charged monthly after initial sign-up. One hour of rental credit will be added to your account each month.
$450
Pay one whole year upfront and receive twelve hours of rental credit for the price of ten
Member Benefits
10% OFF Mountain Meadow Herbs products • 10% OFF Mountain Meadow Herbs classes and workshops held at the Conference Center • Additional conference center hours can be purchased at the discounted rate of $45/hour • Promotion of your event on the Meadow Conference Center Facebook page (upon request).
TV with Surround Sound
Audio and visuals are provided with our 85-inch, high-definition, wall-mounted Smart TV with surround sound system.
Connectivity Solutions
We provide multiple solutions for connecting to personal devices, including HDMI, AppleTV, and Chromecast. If you have other needs for connectivity, just ask!
FREE Wi-Fi
Password-secured free wi-fi access will be given.
Movable Tables and Chairs
The space is fully customizable with movable classroom-style tables and chairs. Set the space up any way you like.
Whiteboard
You'll enjoy the use of our large 4x6 foot, double-sided whiteboard on wheels.
Additional Amenities
It is our goal to make this space as custom and comfortable for you as possible. If you have additional needs, just ask!
For more information about renting the Meadow Conference Center, please contact Erica Stevens or call 1.888.528.8615