Boost Your Immune System. NOW!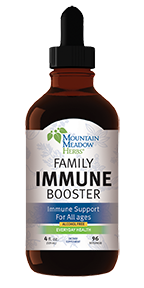 This product boasts a combination of two of nature's greatest gifts for immune support--Elderberries and Echinacea.
Elderberries are packed with antioxidants and vitamins that may help to boost the immune system. Echinacea contains a number of different compounds, including phenols and alkylamides, which can also support the immune system.
Additionally, this formula contains Propolis Resin, which has been used for thousands of years to provide immune support.

"I love Mountain Meadow Herbs Family Immune-Booster! The taste is by far the best I've found in herbal immune support products. My kids love it as well which makes giving them their 'vitamins' a whole lot easier."
Dessie W.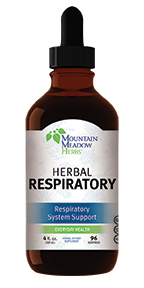 The mouth and nose are basically the body's front door to the outside world and lead straight to your respiratory system. Supporting your respiratory system with traditional herbs like licorice root and bayberry bark will help to cleanse and support the lungs - providing a strong defense.
Additional herbs in this formula provide soothing support and promote a healthy inflammatory response when the need is there.

"I have been using products from Mountain Meadow Herbs for years, and always with wonderful results. Herbal Respiratory has helped with our coughs, and getting rid of them quickly."
Jennifer P.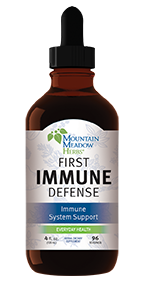 We all know that feeling . . . that tickle in the back of the throat. Is it, or isn't it? Regardless, that's the perfect time to give your immune system a kick and tell it to pay attention, there's something going on. Barberry root bark and Oregon grape root contain a compound called berberine that have been shown to support against harmful microorganisms.
Also in this formula are Stinging Nettle leaf and Olive leaf, both powerful herbs that provide wide-ranging support to the entire immune system.

"I always keep a bottle of First Immune Defense around. You never know when you're going to need it, and it has come in handy more than once."
Amy T.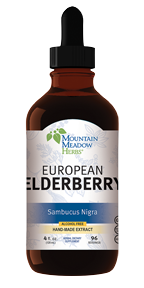 Our pure Elderberry extract provides strong immune support for you and your whole family. To clear up some confusion, the European Elderberry is the same as Black Elderberry, or Sambucus nigra, the traditionally used berry for immune health.
Full of antioxidants and beneficial vitamins, this herbal extracts is an excellent addition to any immune-boosting regimen.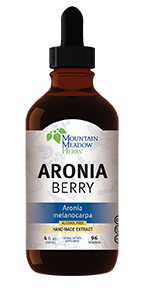 The newcomer to our line of effective immune-supporting herbs, Aronia Berry is quickly becoming a popular alternative to the Elderberry. With many of the same beneficial constituents, at even higher levels than the Elderberry, this herb may be the future of immune health.
The berries we use are organically-grown right here in Montana.

"The flu is EVERYWHERE this year! With family members getting sick, the moment I started to feel less than well, I started taking your European Elderberry and Aronia Berry Extracts. I continued them for three days until my throat felt normal, my ears did not feel full and I was no longer feeling 'off'. I truly believe that if I had gone on 'business as usual' and not started these extracts, I may have ended up really sick. I will keeping these in my medicine cabinet!"
Kim B.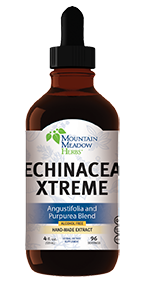 By combining two varieties of Echinacea, Purpurea and Angustifolia, this single extract blend provides powerful immune support. Numerous studies have found that this plant may help your immune system maintain strength during challenging times.
Like the Elderberry, Echinacea is also full of powerful antioxidants like flavonoids, which provide protective cell support.
Elderberry and COVID-19
With the Coronavirus pandemic effecting the entire world, there have been several questions regarding the potential for Elderberry, and possibly other immune-supporting herbs, causing or increasing the likelihood of cytokine release syndrome (CRS) or a cytokine storm. MORE >