*** Get yours while supplies last! Offer ends soon! ***
Boost your immune system with our
Herbal Immune Pack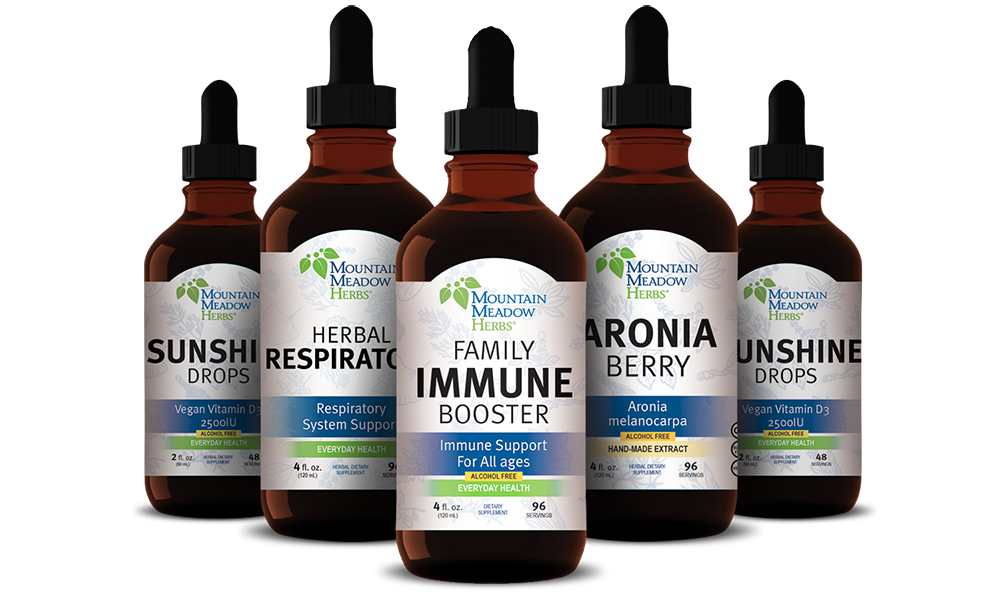 -------- SAVE 35% --------
Family Pack
(1) 4 oz. Family Immune Booster
(1) 4 oz. Herbal Respiratory
(1) 4 oz. Aronia Berry Extract
(2) 2 oz. SunshineDrops - Vegan Vitamin D3
$143 $92.95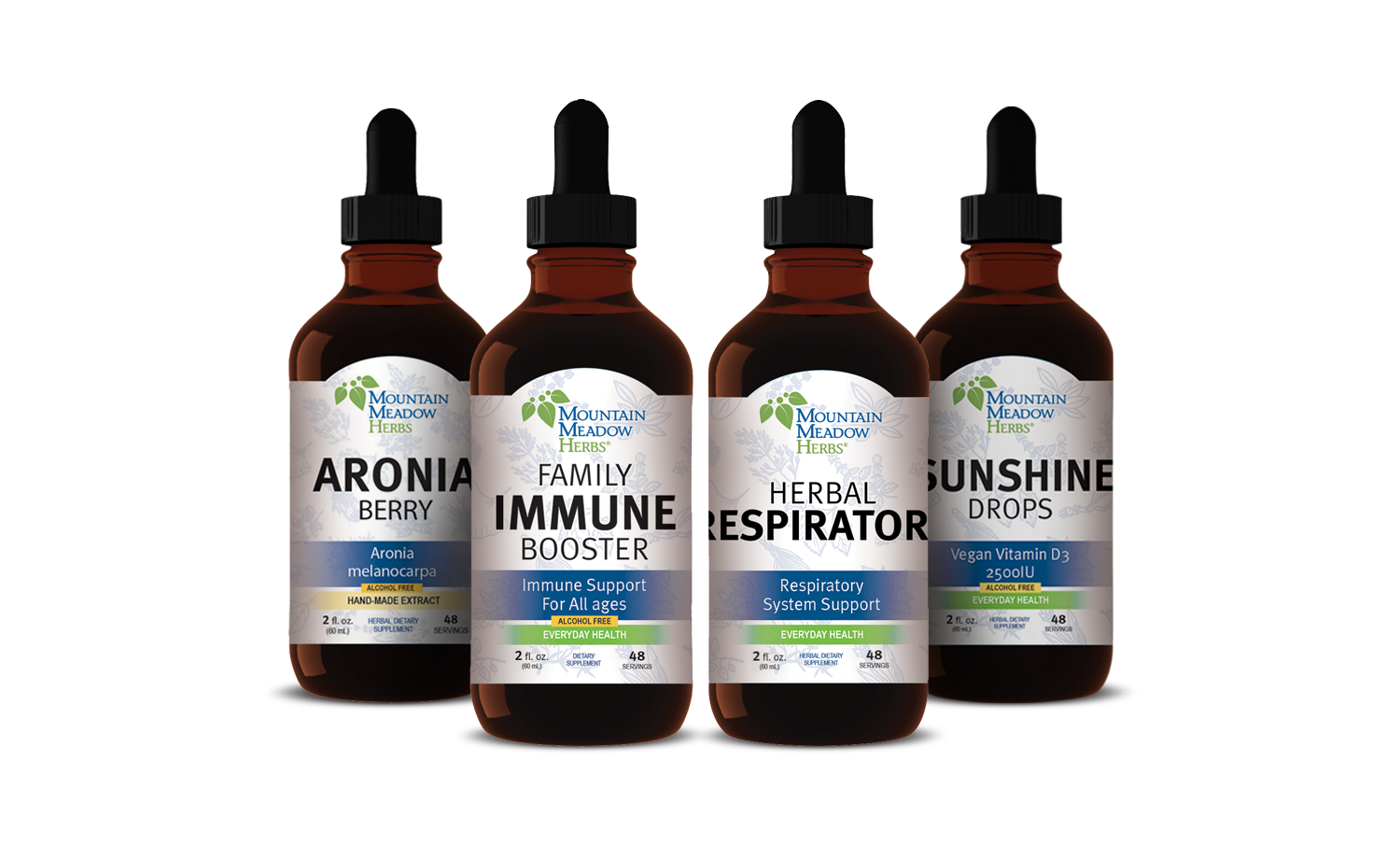 -------- SAVE 30% --------
Individual Pack
(1) 2 oz. Family Immune Booster
(1) 2 oz. Herbal Respiratory
(1) 2 oz. Aronia Berry Extract
(1) 2 oz. SunshineDrops - Vegan Vitamin D3
$72 $50.40
These Immune Packs ship anywhere in the U.S. for FREE when you use code:
SHIPITFORFREE
Why Mountain Meadow Herbs?
Since 2001, Mountain Meadow Herbs has been an advocate and trusted source of superior health an natural healing. Our uniques process for extracting herbs has been researched, tested, and developed over time so that the final result is a pure, golden gift from nature. These powerful liquids are up to 70% more effective than tables or encapsulated herbs. Absorption is almost instant and benefits can, in many cases, be seen quickly.
Tired of alternative supplements that don't work? Try a liquid, golden gift from nature--you won't be disappointed!
Our mission is to provide natural health solutions that you can trust!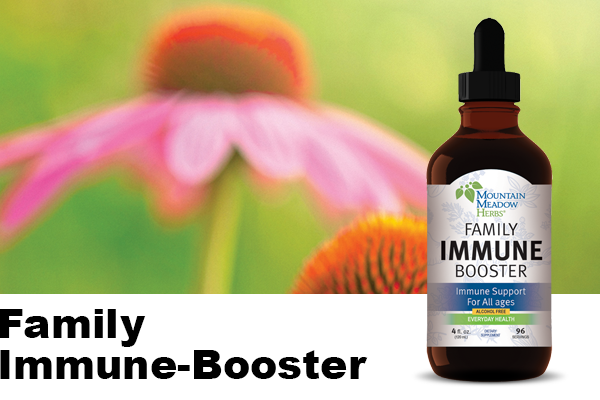 Our best-selling immune-support blend contains extracts from Elderberries, Echinacea (Purpurea and Angustifolia), and Propolis Resin.
Elderberries and Echinacea are two of nature's greatest gifts for immune health. Elderberry's vitamin and antioxidant content are responsible for its powerful immune benefits, and Echinacea provides support for healthy white blood cells, which are responsible for fighting infection.
Honey bees produce Propolis to maintain the health of their hive. Its a wonderful, natural protective system designed to promote well-being and long-lasting health, with well known antioxidant properties to help maintain a healthy immune system.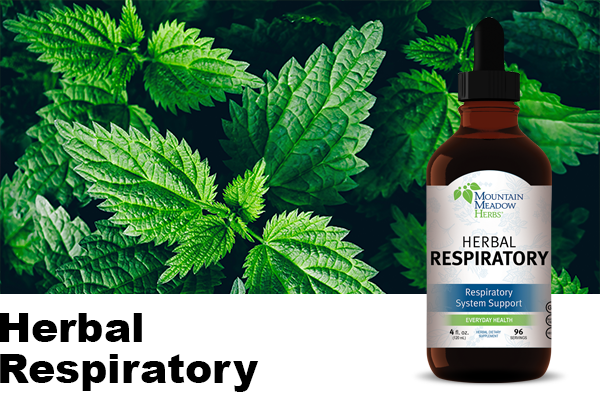 Blended with herbs traditionally used to cleanse and support the respiratory system, Herbal Respiratory helps to maintain clear, open, unrestricted airways. Rich in herbal expectorants, this blend can help to loosen congestion, support a productive cough, and promote a healthy respiratory system.
Thyme leaf helps to maintain a healthy respiratory tract; Elecampane helps to clear excess phlegm while also soothing raw, irritated tissues; Anise seed is an anti-spasmodic and may reduce the urge to cough; Stinging Nettle leaf supports a healthy inflammatory response so that your respiratory system can protect itself; Licorice root contains glycyrrhizin which provides soothing lung support; and Bayberry bark provides mucus support.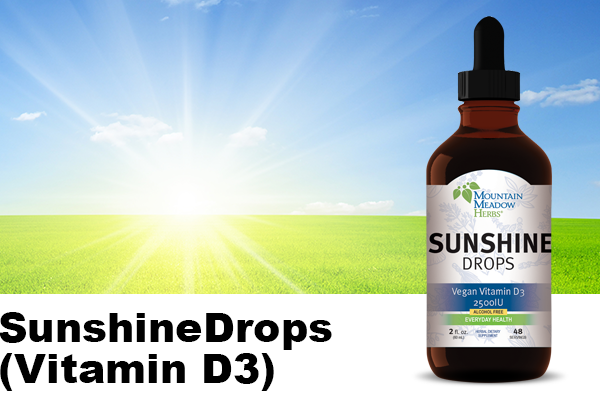 Vitamin D is necessary for proper immune system function, which is your body's first line of defense agains infection and disease. It has both anti-inflammatory and immunoregulatory properties and is crucial for the activation of immune system defenses.
Low vitamin D levels have been associated with increased susceptibility of illness, especially respiratory concerns. Supplemental support of this essential vitamin has shown to keep your immune and respiratory systems healthy.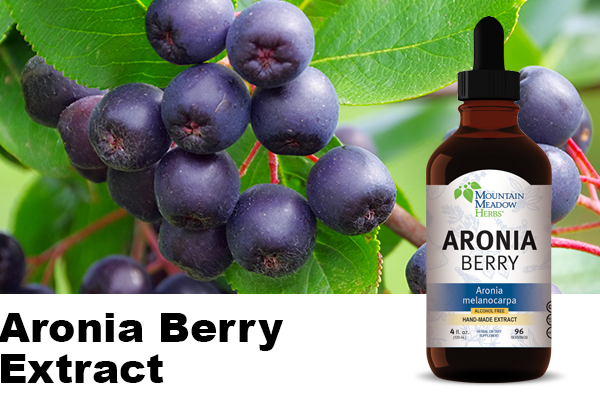 Aronia is quickly becoming as popular, if not more so, as the Elderberry. With many of the same beneficial constituents, at even higher levels than the Elderberry, this berry may be the future of immune health. Aronia berries contain an abundance of vitamins and minerals, including zing, magnesium, iron, and vitamins C, B, and K. They also have the higgles level of antioxidants (when compared to other fruits), which help to protect your cells.
Separate supplementation of the Aronia Berry can take your immune support to the next level.
These Immune Packs ship anywhere in the U.S. for FREE when you use code: SHIPITFORFREE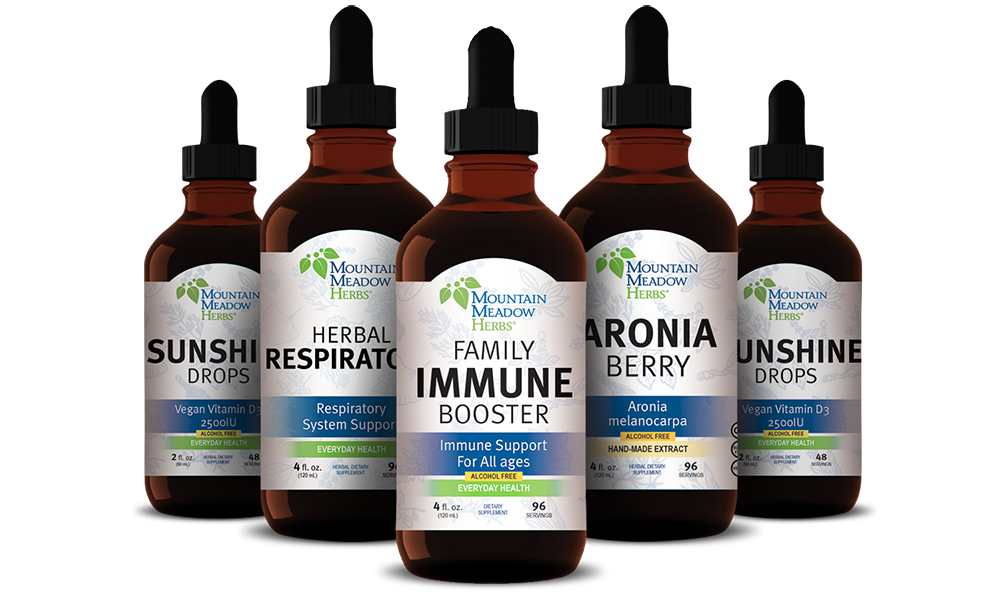 Family Pack SAVE 35%
(1) 4 oz. Family Immune-Booster; (1) 4 oz. Herbal Respiratory; (1) 4 oz. Aronia Berry Extract; (2) 2 oz. SunshineDrops Vitamin D3
$143 $92.95
*** Get yours while supplies last! Offer ends soon! ***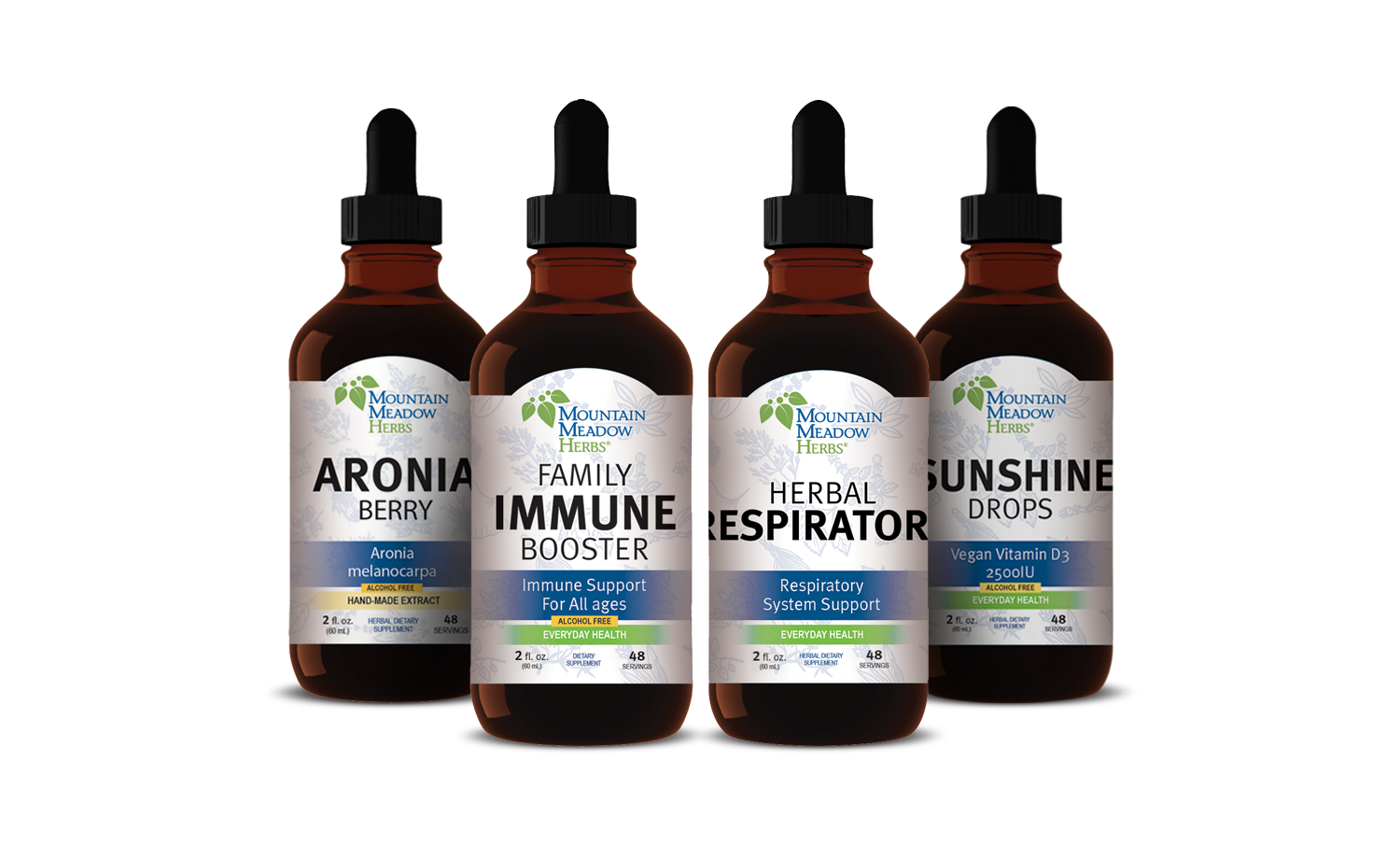 Individual Pack SAVE 30%
(1) 2 oz. Family Immune-Booster; (1) 2 oz. Herbal Respiratory; (1) 2 oz. Aronia Berry Extract; (1) 2 oz. SunshineDrops Vitamin D3
$72 $50.40